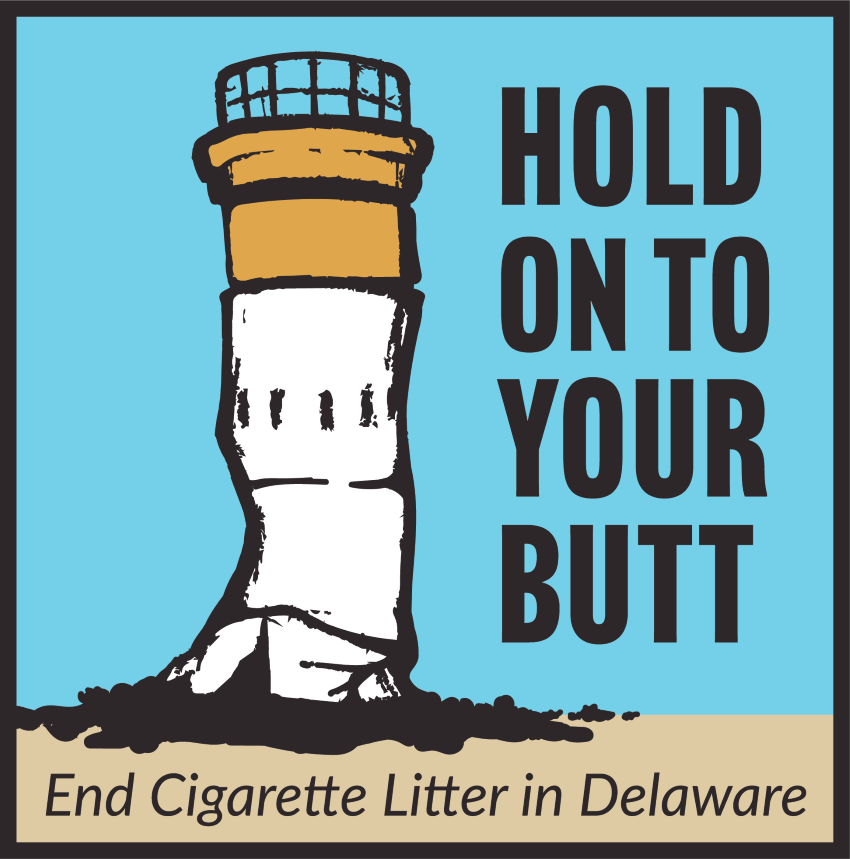 The Problem
Delaware beaches are known for incredible landscapes, serene coastal views, abundant wildlife, and so much family fun. They are central to what makes Delaware, well, Delaware. But these beaches – and the people and animals who love them – face a real threat if we don't take action to end cigarette litter in our state.
How You Can Help
Carry-in, Carry-out. When you leave, take home any items you bring into Delaware State Parks including cigarette waste.
If you smoke, please dispose of your cigarette litter in ashcan receptacles for recycling located in Cape Henlopen, the Indian River Inlet, and Fenwick Island State Park or Hold On To Your Butt and dispose of it when you get home. Free personal pocket ashtrays are available to smokers at several locations in Sussex County and will be distributed on select weekends in the parks during the summer.
In 2021 the Delaware Chapter collected over 19,000 cigarette butts from DE beaches.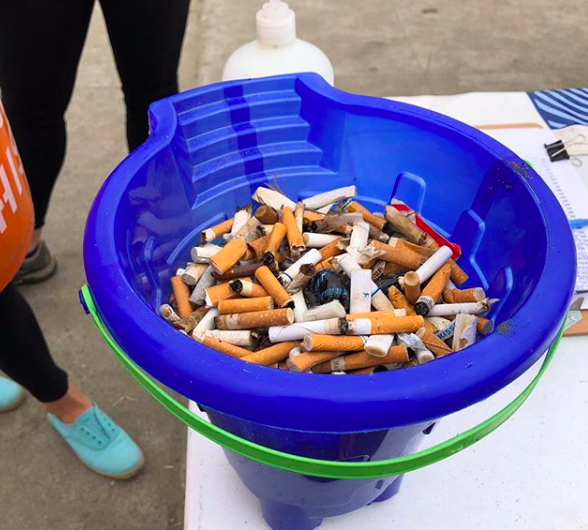 Pick up a free pocket ashtray
You can find a free pocket ashtray at several locations, including all DE State Park beaches.
Surfrider Delaware Cleanups
Indian River Lifesaving Station
DNREC Park Headquarters at the Indian River Inlet and Cape Henlopen
Old Inlet Bait & Tackle
If you don't smoke, please encourage your friends and family who do smoke to properly dispose of their cigarette butts. Volunteer to help Surfrider Delaware clean up the beaches, like us on Facebook, and sign up to receive our emails to be notified where and when beach cleanups take place.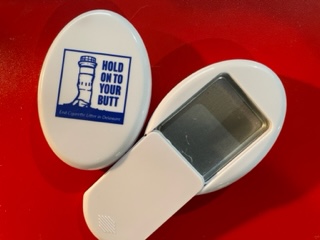 Cigarette Waste Ashcans
To help park visitors properly dispose of cigarette litter, DNREC has installed cigarette waste receptacles at key locations in Fenwick Island, Cape Henlopen, and the Delaware Seashore State Parks. The ashcans were donated by Keep Delaware Beautiful. If you smoke, please dispose of your cigarette litter in an ashcan for recycling or Hold On To Your Butt and dispose of any waste when you get home.
Cigarette Butt Recycling
All of the cigarette butts that are collected in the ashcans and at our beach cleanups are recycled by Keep Delaware Beautiful through Terracycle's cigarette waste recycling program. Cigarette waste collected by Terracycle is melted into hard plastic that can be molded into new recycled industrial products. The bench pictured is located at Cape Henlopen State Park and is made from recycled plastic.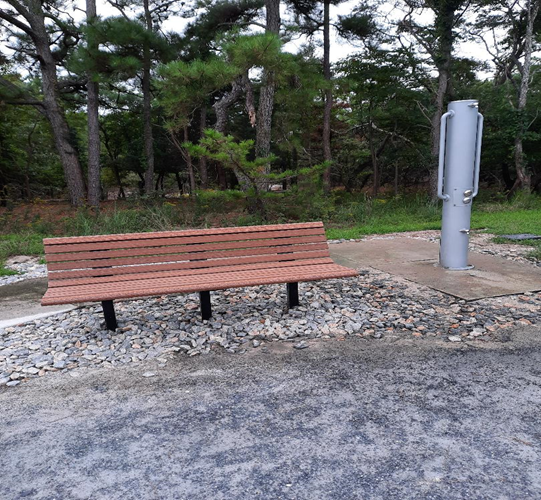 Hold On To Your Butt (HOTYB)
In partnership with Plastic Free Delaware and the Delaware Department of Natural Resources and Environmental Control, the Surfrider Delaware HOTYB campaign aims to increase public awareness of the environmental dangers of cigarette butts and inspire smokers to properly dispose of their butts. The partners share a mission to stop plastic pollution at the source before it enters Delaware's fragile coastal ecosystem. As Delaware's number one pollutant, cigarette butts—which are made of plastic—will continue to be the focus of our cleanups.
The Surfrider Foundation Delaware Chapter Hold On To Your Butt program is a 2022 Temper of the Times Foundation Grant winner as well as a 2022 DNREC CEPF Grant winner.
Cigarette Litter Misconceptions
Misconception #1
There aren't that many butts on the beach.
Fact:
Cigarette butts are the most frequently littered trash in Delaware. Data from the past decade of the Delaware Department of Natural Resources and Environmental Control's annual Coastal Cleanup shows that volunteers picked up between 10,000 to 20,000 total cigarette butts during this one day event over those 10 years. In 2021, the Delaware Chapter of the Surfrider Foundation removed over 10,00 butts from Delaware's beaches.
Misconception #2
Cigarette filters are made from cotton fibers. They will just decompose.
Fact:
Cigarette filters are made from plastic – plasticized cellulose acetate – which does not biodegrade or compost. Cigarette filters discarded in the environment break down into smaller pieces over the course of 10 years, but they are never truly gone. *
Misconception #3
Extinguished cigarette butts are not dangerous.
Fact:
While they may not start a fire, butts are made of combustible materials and may intensify existing fires, * and pose a threat to anyone barefoot on our beaches. Discarded cigarette butts also leach chemicals that pollute our waterways and pose a significant risk to birds and other wildlife which may mistakenly swallow them. *
*Novotny, T., Lum, K., Smith, E., Wang, V., & Barnes, R. (2009). Cigarettes Butts and the Case for an Environmental Policy on Hazardous Cigarette Waste. International Journal of Environmental Research and Public Health, 6(5), 1691–1705. https://doi.org/10.3390/ijerph605169*1
Hold On To Your Butt in local media
DETV Good Morning Wilmington Interview with Chair Brian Moran -July 13, 2022
WBOC Delmarva Life Interview with Chair Brian Moran – July 12, 2022
Delaware State News article – July 3, 2022
WRDE news segment on the recent EPS bill and the Hold On To Your Butt program.